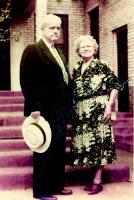 T. A. and Willie Bartlett, 1947.
This item about Thomas Anthony Bartlett
and his wife, Willie Broyles Bartlett, was
written by a daughter, Theretta Bartlett Pickel.
Thanks to Carol Selander for providing a
copy of it and to Michael Pickel for the photo.







---
Thomas and Willie (Broyles) Bartlett
By Theretta Bartlett Pickel
Thomas Anthony Bartlett was born in Chatfield, Navarro Co., Texas, August 6, 1876. His great grandfather, Jesse Bartlett, was born in Knox Co., Tennessee and fought with General Andrew Jackson in the War of 1812. He came to Texas in 18321 with his wife, Frances Calloway,2 and children, settling at Washington-on-the-Brazos. After the fall of the Alamo, Major Bartlett joined Gen. Sam Houston's small army at the Battle of San Jacinto.
Thomas Anthony's parents moved to Corsicana when he was about twenty months old. As a young man, he became manager of an ice house and Schlitz Beer Distributorship in Corsicana, where he met Willie E. Broyles, who was living with her aunt and attending high school. She was born in Rural Shade, Texas December 12, 1877, granddaughter of Washington Ingram, who had moved from Georgia to Navarro Co., with his family and slaves before the Civil War and had established a plantation south of Kerens.
Thomas and Willie were married on October 8, 1897. A son, Therrell Anthony Bartlett, was born in 1899 in Corsicana. They moved to Henderson Co., where Thomas went into the ice business in Athens. It was there that their oldest daughter, Theora, was born.
In 1903, Thomas moved the young family to Malakoff, where he establlished the town's brick industry, owning the Malakoff Pressed Brick Company until 1942. In the early years of this century "cotton was king," so he opened a cotton gin. With the brick plant, gin, and a number of rental houses, he needed running water, so he built a well. When his neighbors wanted to tie into his water line, he found himself in the water business. As Malakoff grew, there was a need for more water; so in 1927, he dug a deep well which provided plenty of pure water to the town. The Malakoff Water Company was born. After building his first gin in Malakoff, he built one in Trinidad and Cross Roads. About 1915, he built the Malakoff Mercantile Store, occupying as much as a half block of space. He sold most anything a person would need: hay grain, farm wagons, and farm implements, furniture, coffins, dress materials, shoes, millinary items, and groceries. Of course, fresh vegetables and fruit were not available in stores at that time, but come the Christmas season, what excitement! There were boxes of oranges, apples, and lemons; all kinds of nuts and fancy Christmas candies; bananas came on a whole stalk and were hung from the ceiling. All these enterprises needed more light than kerosene lamps could provide; so he wired his store and home for electricity, using Delco cell batteries. He was one of the first in Malakoff to have electric lights in his home.
Thomas was an outstanding civic leader, banker, member of the Masonic Order, Scottish Rite, and a Shriner; he was charter president of the Malakoff Rotary Club. He was kind, thoughful, and generous to his friends and very loving to his family.
Mrs. Bartlett, besides being a good homemaker and rearing five children, was a member of the Order of the Eastern Star and the Methodist Church. She was a leader in her community. The last three of their four daughters, Theressa, Theretta, and Therma, were born in Malakoff.
---
Notes by Roger Bartlett:
1. I believe they arrived in Texas in December 1831.
2. The surname was usually spelled Callaway.