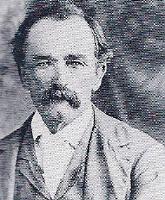 This article appeared in
The Dallas Morning News, Dallas, Tex.,
on Monday, January 29, 1940.
He died on January 31, 1942,
four days his 100th birthday.
His image at left is from
Navarro County History, vol. 2, p. 387.
---
Confederate at Rice
Reaches 98th Birthday;
News Reader for Years 
Special to The News.
RICE, Texas, Jan. 28.--Burwell Edmundson, oldest citizen of Rice and believed to be the oldest native Texan, observed his ninety-eighth birthday at his home in Rice Saturday. Better known as Uncle Burl, he was born near Huntsville. In 1854 he moved with his parents to Chatfield, Navarro County, then to Waxahachie in 1856, from there to Waco and later back to Chatfield.
In 1862 he enlisted in Waul's Legion of the Confederate army at Tehuacana, in Limestone County, and was transferred from there to Mississippi.
Benjamin F. Sterling, father of former Gov. Ross Sterling of Texas, was his commander during the Battle of Vicksburg. It required forty-eight days during 1863 for this legion to be captured by General Grant's army.
After being paroled at Vicksburg on July 10, Mr. Edmundson walked from there to his home at Chatfield, a distance of more than 400 miles.
He received his discharge at Galveston in 1865.
For several years after the war he was a cowboy, assisting in moving large herds of cattle hundreds of miles.
He was married at Chatfield in 1869 to Miss Jane Hays. In 1871 they moved to Oak Grove community in Ellis County, then in 1896 to his present home in Rice. Mrs. Edmundson died in 1927.
Despite his advanced years, Mr. Edmundson still enjoys average health. He has been a subscriber of The Dallas News for many years.
Mr. Edmundson has four living children. They are W. E. Edmundson and Mrs. H. C. Bartlett, Rice; Mrs. Sam Long, Sulphur Springs; Mrs. Fannie Donaldson, Kemp; also twelve grandchildren and six great-grandchildren.