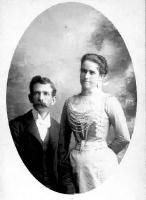 Hettie Lee Bartlett,
fourth child and only daughter of
Thomas Smith Bartlett and Sally Edmundson,
married James Edward Drummond
on August 30, 1899, her 21st birthday.
This recollection and their photo at right
is made available here
through the courtesy of the author.
Bracketed material was added.
---

A Recollection of My Grandparents
And as Told by Those Who Also Knew Them

By Garrett B. Drummond, Jr.
My grandfather James Edward Drummond came to Blooming Grove, Navarro County, Texas in 1888 as a young man of 19. His parents, William and Margaret Traylor Drummonds (the name was spelled with an "s" until the 1880's,) were natives of Simpson County, Mississippi where their forebears had settled about 1825, coming from Barnwell County, South Carolina. William Drummonds, born in 1832, was a veteran of the 39th Mississippi Infantry, CSA, as was a brother, both survivors of the Siege of Port Hudson, Louisiana in the spring of 1863. Two other brothers were killed in action within three weeks of each other in the fall of 1862.
James Drummond was the second of five children born to William and Margaret. He probably had no more than six years of common school, but he was a well-spoken person when there was occasion in church meetings. He was a devout Baptist, and as he had a pleasing light tenor voice he sang in the church choir of the Corsicana Baptist Church. He once recalled that his Saturday afternoon job as a boy was to "sweep the yard," as was the custom in some places in the South.
Those who knew him described him as a man of medium height, slight in figure and slender. His speech was mild and his manner kindly. He looked to his wife, who he loved and admired, for direction, but there was a mutual feeling of respect. She always addressed him as "Mr. Drummond."
He was a very good gardener, planting all kinds of vegetables, and tended a large flower garden which his wife planted so that there would be flowers for the church at all seasons of the year.
When William and Margaret Drummonds came to Texas, their five children accompanied them. James remembered that he walked barefoot from Mississippi, driving the cattle. The oldest child, Frances Elizabeth, and her husband, Hiram Beasley, rented farm land around Cleburne and Maypearl until 1900, when they bought farms near Phantom Hill, Taylor County.
William and Margaret Drummonds made the decision to return to Mississippi in 1895. Their children chose to remain in Texas, where they created careers for themselves nearby, and are buried with their respective families in Oakwood Cemetery, Corsicana. Information about William and Margaret's child, Laura, who married one Wylie Smith in May, 1898 (a date that was established then the Navarro County Genealogical society located her marriage certificate for me) is sadly lacking. There appears to be no information available about her birth date. The date of her death was established rather uniquely: after my grandmother Drummond passed away in 1969, a high school friend of hers sent me an announcement from the Baptist Church news about their wedding (she had been there, 70 years before). On the reverse side of the clipping was the notice of Laura Drummond Smith's death.
Jesse Bartlett, Hettie's great-grandfather, had come to Texas about 1832. He and his son, Joseph Callaway Bartlett, served in the Army of the Republic of Texas during the 1836 Revolution. Joseph's eight-year-old bag horse was lost in service on July 15, 1836, for which he was reimbursed $125. On May 10, 1838 the Secretary of War for the Republic issued bounty warrant 3291 to Joseph for 320 acres of land for service in the Army of the Republic from June 18, 1836 to September 18, 1836. Pursuant to the warrant he patented 320 acres in Lampasas County on Sept 11, 1845. He and his family moved to the present Navarro County (then a part of Robertson County) in the same year, when the area was just being settled and was still somewhat the frontier. They first lived at Taos (Porter's Bluff) on the Trinity River, where he operated a ferry. Joseph Bartlett was appointed Navarro County tax collector in 1846. He also served as Justice of the peace in the 1860's, and was the first postmaster in Rice, serving from October 2, 1872 to November 23, 1875.
Hettie Lee Bartlett's father, Thomas Smith Bartlett, was born in Washington County, Republic of Texas in 1843. Her mother, Sally Edmundson, was born near Huntsville, Texas in 1847. Hettie Lee was the last of four children. She was 17 when her mother died, and she kept house for her father and an unmarried brother until her marriage. My informant who attended her wedding said that Hettie would go home on Friday afternoon and come to school on Monday morning wearing a new dress she had made over the weekend. She graduated from Corsicana High School in 1898.
The Bartletts held strong Baptist convictions. Hettie's father was on the first Board of Trustees of the Rice Baptist Church when it was established in 1875. Hettie was deeply dedicated to bible study, and was a lifetime student of the study courses that her church provided. She loved reading Baptist literature and the daily newspaper for its state and national news, but she never read a novel or short story for pure pleasure.
It was at the First Baptist Church in Corsicana that Hettie Bartlett met James Drummond. And it was there that my grandparents were married on August 30, 1899.
They had two sons, Garrett Bartlett (a surviving twin, and said to have been named for Dr. Garrett who delivered him) on April 15, 1900, and a son, Thomas Edward, born in 1903. She and James were not only proud but very conscientious parents, holding their children to their own high and somewhat rigid standards of behavior.
My grandfather James was employed as a clerk by mercantile establishments in Corsicana. Later, while his children were in school, he worked for his brother-in-law at the Malakoff brick plant, returning to Corsicana on weekends.
My mother remembered that Hettie did many things well, very fine sewing as well as tailoring. Her own clothes were always beautifully made. She had learned pattern drafting, and often sewed for others. Hats were a special love, and she bought good "shapes" which she wore year after year, good felts or straws which she trimmed professionally. She never discarded ribbons or flowers, but "freshened" them and used them over and over again. She was very pleased one spring Sunday morning when, on leaving church, an unknown man complimented her on her beautiful flower-trimmed hat.
My mother continued: Hettie was also an excellent cook, and delighted making rich fruit cakes, layered white cakes with delicious fillings and thick icing. She took pride in setting as good table, not only roast chicken or ham, but country dinners of crowder peas, okra, fresh tomatoes, with a dessert of fried pies. She also said, Hettie also made cornbread every day!!
Garrett, James and Hettie's older son, graduated from Corsicana High School in 1917. It was his ambition to join the Army. After high school graduation, he worked at the Corsicana Sun as proofreader and telegraph operator until, in 1919, he was appointed by Senator Morris Sheppard, to the United States Military Academy. He graduated from West Point in 1923. He resigned from the Regular Army in 1926, and was employed as a college professor when not on active duty with the Army.
Thomas, the younger son, graduated from Corsicana High School in 1920. He was employed by the Magnolia Oil Company, later to become Mobil Oil, for his entire working career.
After the sons left home, Hettie and James moved their place of residence from Corsicana to Malakoff, where they lived for some years. As he grew older, James' health failed and he was less able to work. His death came of a heart attack on July 13, 1942, at the age of 73.
After her husband's death, Hettie made her home with her older son in Albuquerque, New Mexico. She found herself a job; she took the desk at the YWCA from 5:00PM until 11:00PM. She truly enjoyed the work and the people she met there. She had never before worked outside her home. After leaving Albuquerque, she kept house for a widowed niece in Wichita Falls, Texas, and some years later, she took residence at the Mary Trew Baptist Home in Dallas.
For Hettie, the latter years were most difficult. Near the end of her life, she had lost both sons and her husband. There was little money, and adjustments were not easy for her, but she had great personal courage, and a deep trust and an abiding faith that God would provide. She knew her prayers were answered, and they were. She died in Dallas, Texas on Valentine's Day, 1969 at the age of 90, and was buried in Corsicana's Oakwood Cemetery next to James.