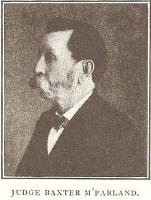 This obituary of Judge Baxter McFarland,
which included the photograph at right,
appeared in the magazine Confederate Veteran
in July 1925 (vol. XXXIII, p. 265).
Thanks to David Chapman for providing a copy.


---
JUDGE BAXTER McFARLAND.
Judge Baxter McFarland, noble Confederate soldier, answered the last roll call February 7, 1925, at his home in Aberdeen, Miss.
Judge McFarland was born in LaFayette County, Miss., on May 15, 1839, and, therefore, was nearly eighty-six years of age. When very young, his father moved with his family from LaFayette County to Chickasaw County, Miss., where the son grew up. At the beginning of the War between the States, young McFarland went out with the company organized by Captain Tucker, later Brigadier General Tucker, of Okolona, Miss., on whose staff he was a major at the close of the war. In that bloody strife he was conspicuous as an officer, both for his gallantry and his devotion to duty. He was twice wounded in the battle of Gaines's Mill, and participated in most of the bloody engagements around Richmond and elsewhere.
Before the war, Judge McFarland attended las school at the University of Mississippi, and many of those with whom he graduated became distinguished thereafter in war and peace. He entered on the practice of law at Houston, Miss., shortly before war was declared. He was associated in practice, before going to Aberdeen with the firm of Orr, McFarland & McIntosh, each member of which firm became distinguished at the bar, the senior member lately dying a citizen of Columbus, a century old. In 1870 Judge McFarland removed from Houston to Aberdeen, Miss., he having married Miss Mary Holliday, daughter of Col. John Holliday, of Aberdeen, and granddaughter on her mother's side of Gen. Jesse Speight, once a United States Senator from Mississippi.
Soon after going to Aberdeen, he became a member of Davis, McFarland & Paine, a firm of wide practice and much distinction. In 1883 he was appointed Chancellor of the First Chancery District of Mississippi by Governor Lowery, which office he filled with unusual distinction for sixteen years. After leaving the bench, Judge McFarland again resumed practice with his old partner, George C. Paine, and later with his son, Ben H. McFarland. Later, however, his very considerable property interests caused him to practically retire from active practice for several years.
Judge McFarland, on both his father's and mother's side, was Scotch; and in his diligence, his talent for detail, his wonderfully accurate memory, and his great learning, he reflected the highest qualities of that race. As a chancellor and judge, he was as nearly perfect in his bearing, in his consideration of the pleas of litigants, in his broadness, and in all that appertained to a disinterested judge of learning and a lofty sense of justice as was possible for a man to attain. His attire, his uniform courtesy to every member of the bar, humble or distinguished, his serious and patient consideration of the cause of humble or great were matters noted and observed by all who entered his court. Chief Justice Whitfield, in rendering an opinion of the court, passed an unusual encomium on Judge McFarland, after concurring in several assignments of error, saying that he was "one of the ablest and most accomplished judges who ever adorned the bench in Mississippi."
There were born to Judge McFarland and his wife three sons and a daughter. Two sons survive him-Tom Holliday McFarland and Ben H. McFarland, the latter a member of the bar in Aberdeen. There is also left an older sister, Miss Laura McFarland.
All men loved Baxter McFarland. Men may be good and not be great; Baxter McFarland was both. Chivalry was the law of his life and charity his guardian angel. "His life was gentle and the elements so mixed in him that nature might stand up and say to the world: 'this was a man.'"